Episode 66 | macnemo.tv
Ich habe es nicht nur geschafft eine neue Episode macnemo.tv im Februar live zu senden, ich schaffe es auch sie noch im Februar zu veröffentlichen. In dieser Episode gab es ein Schwerpunktthema und das war bzw. ist mein Home Entertainment System. Ich gebe einen kleinen Überblick über die Technik und Software die mir hilft meinen Medienkonsum zu befriedigen. Ich hoffe es ist auch für euch interessant.
Hier die Grafik welche mein Setup im "High Level" beschreibt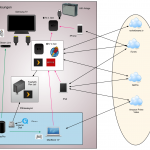 Leider gab es wohl wieder ein Bug mit BoinxTV und Bild und Ton sind nach dem Jamendo Song nicht mehr synchron. Ich hab versucht es mit Final Cut Pro X zu fixen, aber perfekt ist was anderes. Hoffe das ich spätestens mit Episode 70 auf mimoLive wechseln kann.
Und nun viel Spaß mit der Sendung.
Themen der Sendung:
00:00:00.000 Intro
00:01:54.000 Wein: Familie Allendorf Riesling trocken 2014
00:04:26.000 Mac: März Event 2016
00:07:28.000 Thema: Mein Entertainment Setup
00:22:05.000 Tech: HP ProLiant MicroServer Gen8
00:26:15.000 Tech: FreeNAS
00:28:50.000 Tech: Plex Media Server
00:33:20.000 Tech: Steam Link
00:38:00.000 Tech: TV
00:41:09.000 Game: Firewatch
00:47:01.000 Series: Ripper Street
00:49:57.000 Whisky: Laphroaig Quarter Cask Single Malt 48%
00:57:05.000 Musik: Blood is Pumping & Cold Blood von Voodoo & Serano
01:00:26.000 Jamendo: Dead By Leaves – FROM SKY TO ABYSS
01:01:50.000 Macnemo: Umzug Server
01:04:47.000 Bademeister: TanteX und redcurry
01:16:11.000 Jamendo: Song
01:22:56.000 Outro
Wein:
Familie Allendorf Riesling Trocken 2014
Rheingau
Erzeuger: Familie Allendorf
Inhalt: 0,75
Alkohol: 11,5%
Jahrgang: 2014
A.P.Nummer: 2700106315
Verschluss: Schraubverschluss
Quelle: tegut
Viel Spaß
Panxatony
You can follow any responses to this entry through the RSS 2.0 feed. You can leave a response, or trackback from your own site.