Episode 48 | macnemo.tv
Episode 48 ganz im Zeichen des Backup & Restore. Bei einem sehr leckeren Riesling führe ich in in epischer Breite mein Backup Setup aus. Mal wieder ohne Techniker dafür aber mit neuer Software und einer Steuerung per iPad von der ich heute morgen noch begeistert bin. Dafür stürzte mal wieder BoinxTV kurz vor Ende der Sendung ab, irgendwie hat es aktuell ein Problem mit Audio oder Video Dateien, also in der kommenden Episode wieder den iPod verwenden.
Habe in dieser Episode das erste Mal TouchOSC und Osculator verwendet. Zwei Programme die ich uneingeschränkt empfehlen kann.
Hier mal ein Screenshot meines Studiosetup
Themen der Sendung:
01. Apple: iTunes 11
02. Analog: Behm Samowar
03. Games: StarCraft 2 – Heart of the Swarm
04. Backup – Anwendung: Devonthink Office Pro
05. Backup – Anwendung: 1Password
06. Backup – Anwendung: Arq
07. Backup – Anwendung: ChronoSync
08. Backup – Hardware: QNAP TS-412
09. Backup – Hardware: Time Capsule
10. Backup – Service: Amazon Glacier & S3
11. Backup – Service: Dropbox
12. Backup – Service iTunes Match
13. TV Serie: Homeland
14. TV Serie: American Horror Show
15. Musik: AC/DC – Live at Donington
16. Jamendo: Rock 'till Dawn von Black & White
17. macnemo: Landgang 7.0 in Düsseldorf
Hier noch die Grafik meines Backup Setup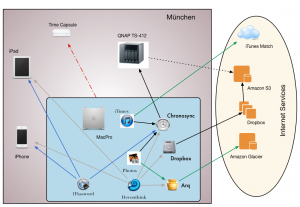 Wein:
Riesling Spätlese feinherb – Winkeler Hasensprung (2011)
Rheingau
Erzeuger: Weingut Hamm
Inhalt: 0,75
Alkohol: 11,5%
Jahrgang: 2011
AP-Nr: 27052 010-12
Deutscher Prädikatswein
Verschluss: Drehverschluss
Quelle: Alnatura Bio Supermarkt
Viel Spaß
Panxatony
[podlove-contributor-list]
[*] Amazon Affiliate Link
You can follow any responses to this entry through the RSS 2.0 feed. You can leave a response, or trackback from your own site.